FUNDAMENTO:
No son los acontecimientos sino nuestra reacción a ellos que determina nuestra dirección y nuestro destino. Para crear caminos que optimicen el futuro es imprescindible formular preguntas que nos dirigen a lo que más deseamos y que nos permiten "Crecer con el Cambio." A través de La Resiliencia, que es la capacidad de superar situaciones de desafío, podemos observar acontecimientos desde otra perspectiva formulando preguntas que nos impulsan a lograr más optimizando cada instante. La vida es como una pelota que va rebotando. A veces estamos arriba y a veces estamos abajo. Lo más importante no donde estemos en un momento determinado, sino nuestra capacidad de rebotar por lo menos una vez más porque ¡es el rebote lo que nos lleva al tope!
DIRIGIDO A:
Organizaciones e individuos que quieran crear caminos contundentes para optimizar el futuro.
OBJETIVO GENERAL:
Establecer patrones que permiten generar preguntas que dan impulso a crear caminos para optimizar el futuro.
OBJETIVOS ESPECÍFICOS:
1. Crear "Un Rebote que nos Lleve al Tope"
2. Potenciar la iniciativa para manejar el cambio
3. Obtener herramientas concretas para ser emprendedor
4. Generar preguntas que dan impulso para crear caminos contundentes
CONTENIDO:
Fluir con el cambio
Reír en momentos difíciles
Adaptarse a nuevas situaciones
Sujetarse a principios que dan poder
Curiosear para lograr nuevas soluciones
Apasionarse con un deseo ardiente
Rebotar situaciones de desafío
Implementar planes de acción
Un Don Especial
A cción y Decisión
C onfianza Convincente
T enacidad Contundente
I niciativa Firme y Decisiva
T olerancia Continua y Constante
U tilidad que Engendra Compromiso
D eseo que Determine el Destino y la Dirección
METODOLOGÍA:
Se utiliza técnicas de aprendizaje teórico-práctica para crear una base de conocimiento que posteriormente será utilizada por cada participante para desarrollar, probar y definir dichos conceptos aplicándolos a su propia experiencia.
ESTRATEGIA:
Se estimula la participación activa de cada integrante a través de actividades grupales e individuales para profundizar el aprendizaje. Se adaptan los conceptos aprendidos a la realidad de cada persona.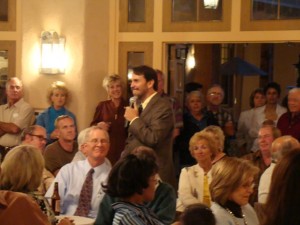 MODALIDAD:
Presencial o Virtual
DURACIÓN:
Conferencia: Hasta 2 horas
Seminario: Hasta 4 horas
Taller: 8 a 16 horas
REFERENCIAS:
Alcalá, L. (2004) El Poder para Lograr, Ediciones Urania, Caracas.
Arocha Mariño, L. (2003) PNL Organizacional, Júpiter, Caracas.
Bandura, A. (1984) Teoría del aprendizaje social, Espasa Calpe, Madrid.
Bandura, A. (1987) Pensamiento y Acción, Ediciones Martínez Roca, Barcelona.
Bandura, A. (1997). Self-efficacy: The exercise of control, W.H. Freeman, NY.
Bandura, A. (1999) Auto-Eficacia, Cómo enfrentamos los cambios de la sociedad actual. Editorial Desclée de Brouwer, España.
Carnegie, D. (1948) Como Suprimir las Preocupaciones y Disfrutar de la Vida, Simon & Schuster, Buenos Aires.
Carlson, R. (1997) Don't Sweat the Small Staff, Hyperion Publishers, NY.
Chopra, D. (1994) The Seven Spiritual Laws of Success, Amber-Allen Publishing, USA.
Clason, G. (1976) El Hombre más Rico de Babylonia, Ediciones Castillo, México.
Coelho, P. (1996) La Quinta Montaña, Editorial Planeta Colombiana, Bogotá.
Coelho, P. (1999) El Alquimista, Editorial Planeta, Barcelona.
Coelho, P. (2005) El Zahir, Editorial Planeta, Barcelona.
Conwell, R. (1960) Acres of Diamonds, Berkley Publishing, NY.
Covey, S. (1995) Los 7 Hábitos de la Gente Altamente Efectiva, Editorial Paidós, México. Csikszentmihalyi, M. (1990), Flow, Harper Perennial, New York.
Csikszentmihalyi, M. (1990), Flow: The Psychology of Optimal Experience, Harper Perennial, New York.
Csikszentmihalyi, M. (1993), The Evolving Self: A Psychology for the Third Millennium, Harper Perennial, New York.
Csikszentmihalyi, M. (2000), Creatividad y Localización del Problema, Revista Psicología Edición Especial año 2000.
Fisher, R. (1994) El Caballero de la Armadura Oxidada, Ediciones, Obelisco, Barcelona.
Giblin, L. (1956) How to have Confidence and Power in Dealing with People, Prentice Hall, USA.
Goleman, D. (1995) La Inteligencia Emocional, Javier Vergara Editor, Argentina.
Harvard Business Review (2003) Building Personal and Organizational Resilience, Harvard Business School Press, Boston.
Helmstetter, S. (1991) You can Excel in Times of Change, Pocket Books, NY.
Hill, N. (1937) Piense y Hágase Rico, Hawthorn Books Inc., NY.
Johnson, S. (1998) ¿Quién se ha Llevado mi Queso?, Editorial Empresa Activa, Buenos Aires.
Kirschheimer, S. (1990) How to Create a Power Field around You, Rodale Press, USA.
Lakein, A. (1973) How to get Control of your Time and your Life, Penguin Books, NY.
Lama, D. (1994) Live in a Better Way, Penguin Books, USA.
Mackay, H. (1988) Swim with the Sharks, Ballantine Books, NY.
Mandino, O. (1986) El Vendedor más Grande del Mundo, Editorial Diana, México.
Mandino, O. (1986) Misión Éxito, Editorial Diana, México.
Mandino, O. (1994) El Don del Orador, Editorial Diana, México.
Mandino, O. (1994) La Universidad del Éxito, Editorial Diana, México.
McBride, R. (2006) Un Don Especial, Júpiter Editores, Caracas.
McBride, R. (2009) El Rebote nos Lleva al Tope, Júpiter Editores, Caracas.
McGraw, P. (2001) Self Matters, Simon & Schuster, NY.
Michalko, M. (1991) Thinkertoys, Ediciones Gestión 2000, España.
Moller, J. (2001) Caminos del Bienestar, Lithomedia, Caracas
Moller, J. (2005) El Éxito es Ser uno Mismo, Ediciones IESA, Caracas.
Murphy, J. (1963) The Power of the Subconscious Mind, Prentice-Hall, USA.
Osho, (2001) Creatividad, Editorial Debate, Madrid. Peters, T. & Waterman, R. (1982) In Search of Excellence, Warner Books, NY.
Posada, J. (2005) No te Comas el Marshmallow, ¡Todavía! Penguin Group, NY.
Ribeiro, L. (1992) El Éxito no Llega por Casualidad, Ediciones Urano, Barcelona.
Riecken, C. (2006) Sobre Viver, Editora Saraiva, São Paulo.
Robbins, A. (1986) Poder sin Límites, Editorial Grijalbo, Barcelona.
Robbins, A. (1991) Awaken the Giant Within, Simon & Schuster, NY.
Ruiz, M. (1997) Los Cuatro Acuerdos, Amber-Allen Publishing, USA.
Schwartz, D. (1959) The Magic of Thinking Big, Prentice-Hall, NY.
Schwartz, D. (1999) Pensar en Grande: la Magia del Éxito, Herrero Hermanos, México.
Seligman, M. (1991) El Optimismo se Adquiere, Atlántida, Buenos Aires.
Seligman, M. (2002) La Autentica Felicidad, Ediciones B., Barcelona.
Senge, P. (1995) La Quinta Disciplina, Editorial Granica, Barcelona
Sharma, R. (1997) El Monje que Vendió su Ferrari, Plaza & Janés Editores, Barcelona.
Siebert, A. (2005) The Resiliency Advantage, Berrett-Koehler Publishers, San Francisco.
Smith, B. (2004) Discover your Blind Spots, Dan Barrett, Dallas.
Stamateas, B. (2007) Fracasos Exitosos, Vergara, Buenos Aires.
Tolle, E. (1999) The Power of Now, New World Library, Novato, CA, USA.
Winget, L. (2004) Shut up, Stop Whining and Get a Life, John Wiley & Sons, Hoboken, NJ, USA
Ziglar, Z. (1994) Nos Veremos en la Cumbre, Editorial Diana, México.
Teléfono: +58 414 328 6411
rob.h.mcbride@gmail.com
Caracas, Venezuela
www.RobMcBride.net